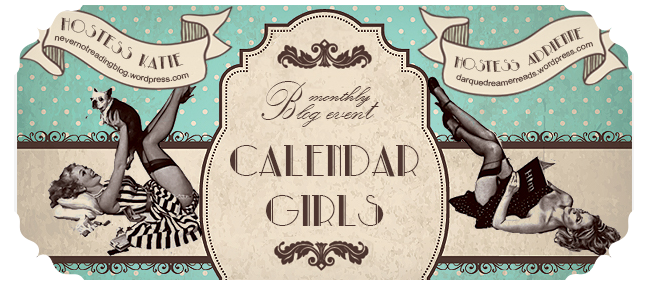 Have you guys heard of the Calendar Girls? No?
The Calendar Girls is a monthly blog event that was created by Melanie at MNBernard Books, and Flavia at Flavia the Bibliophile, and is now hosted by Adrienne at Darque Dreamer Reads, and Katie at Never Not Reading. It was inspired by the 1961 classic song (click here!) by Neil Sedaka and created to ignite fun bookish discussions among readers and bloggers.
The other fun piece to The Calendar Girls group is the Twitter chat. On the 3rd Sunday of each month, at 8 p.m. EST, Adrienne and Katie host a chat with hashtag #CGBChat, where everyone can participate and gif away. They get the ball rolling by asking a question or two about the theme or the picks of the month to get everyone chatting. The hashtag will be used in all tweets, so you can see all the fun!
(That's how I found it and I'm so glad I did!)
If this sounds like something you would love to participate in (and fyi, The Calendar Girls is just a title and is open to anyone) then let Katie or Adrienne know with a blog comment, Twitter DM, or email, and they'll make sure you stay in the loop with everything! You can also sign up with this link.
This month's theme, I already had done, that being My Most Anticipated Read of 2019 but I found a few more titles that I could certainly add to that list. My number one is at the bottom.
Ready? Let's go. 🙂
She was the greatest nemesis of d'Artagnan and the Three Musketeers–but Milady de Winter was so much more than just a villain in their swashbuckling adventures.
I've gone by many names though you know me as Milady de Winter: Villainess, seductress, a secondary player in The Three Musketeers story.
But we all know history was written by men, and they so often get things wrong.
So before you cast judgment, let me tell you of how a girl from the countryside became the most feared woman in all of Europe. A target for antipathy, a name whispered in fear or loathing.
I don't need you to like me. I just need to be free.
It's finally time I tell my own story. The truth isn't tidy or convenient, but it's certainly more interesting.
Release: July 2nd, 2019
Notes: I have never read the story of the Three Musketeers, though I did watch The Man In The Iron Mask when I was young and I recently watched the one with Luke Evans. Milady was a fun character and struck a chord with me for some reason. I suppose I enjoy a naughty character. I have always loved villains…I blame Jeremy Irons' Scar for that. Still, this looks like fun and I can't wait to read this!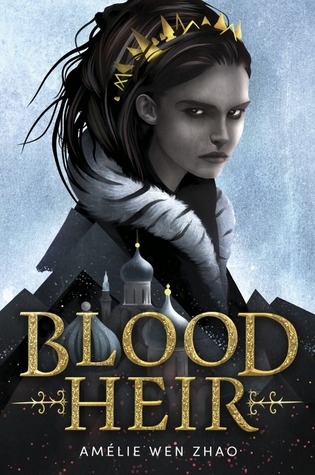 A fugitive princess with the power to control blood. A black-hearted con man with no past and no future. An Empire spiraling into darkness. A world worth saving.
The Cyrilian Empire: a glittering white sprawl of frozen tundras and ancient, snow-capped forests, where ice spirits roam beneath the flickering northern lights, and where slavers hunt Affinites — those born with powers to manipulate elements.
Born with a horrifying Affinity to blood, Anastacya Mikhailov has never believed herself to be anything more than a monster. Her curse rings true when an accident in the dead of the night results in the death of her father, the Emperor of Cyrilia — and she is sentenced for his murder.
But Ana knows what she saw that night: the scent of poison in Papa's blood, and the face of a murderer vanishing into the dark.
Alone, hunted, and on the run, Ana makes a bargain with Ramson Quicktongue, a handsome yet dangerous underground crime lord: help her find the true murderer and clear her name in exchange for her alliance.
When Ana's search lands her in the lair of the most powerful slave trader in the Empire, she uncovers a horrifying truth. A new monarch stands poised to lead the empire to a path of hatred and divisiveness, and Ana must stop her before Cyrilia falls to darkness. But first, she must come to terms with the monster she thinks she is and the heir she was destined to be.
In a world where the princess is the monster, oppression is blind to skin color, and good and evil exist in shades of gray… comes a dark Anastasia retelling that explores love, loss, fear, and divisiveness, and how ultimately it is our choices that define who we are.
Release: June 4th, 2019
Notes: I think the premise sounds intriguing and a bit dark. It would appeal to that side of me that enjoys stories that contain murder, a bit of mayhem, someone on the run…it'll likely turn into a series, which I am further intrigued about.
The chocolate went first, then the cheese, the fries, the ice cream. The bread was more difficult, but if she could just lose a little more weight, perhaps she would make the soloists' list. Perhaps if she were lighter, danced better, tried harder, she would be good enough. Perhaps if she just ran for one more mile, lost just one more pound.
Anna Roux was a professional dancer who followed the man of her dreams from Paris to Missouri. There, alone with her biggest fears – imperfection, failure, loneliness – she spirals down anorexia and depression till she weighs a mere eighty-eight pounds. Forced to seek treatment, she is admitted as a patient at 17 Swann Street, a peach pink house where pale, fragile women with life-threatening eating disorders live. Women like Emm, the veteran; quiet Valerie; Julia, always hungry. Together, they must fight their diseases and face six meals a day.
Yara Zgheib's poetic and poignant debut novel is a haunting, intimate journey of a young woman's struggle to reclaim her life. Every bite causes anxiety. Every flavor induces guilt. And every step Anna takes toward recovery will require strength, endurance, and the support of the girls at 17 Swann Street.
Trigger Warning: Eating Disorders.
Release Date: February 5th, 2019
Vivien Leigh was perhaps the most iconic actress of the twentieth century. As Scarlett O'Hara and Blanche Du Bois, she took on some of the most pivotal roles in cinema history. Yet she was also a talented theatre actress with West End and Broadway plaudits to her name. In this ground-breaking new biography, Alan Strachan provides a completely new full-life portrait of Leigh, covering both her professional and personal life. Using previously-unseen sources from her archive, recently acquired by the V&A, he sheds new light on her fractious relationship with Laurence Olivier, based on their letters and diaries, as well as on the bipolar disorder which so affected her later life and work. Revealing new aspects of her early life as well as providing glimpses behind-the-scenes of the filming of "Gone with the Wind" and "A Streetcar Named Desire," this book provides the essential and comprehensive life-story of one of the twentieth century's greatest actresses.
Vivien is one of my favorite Old Hollywood actresses along with Angela Lansbury, Lucille Ball, Judy Garland, Marilyn Monroe, and Olivia de Havilland.
Release Date: February 28th, 2019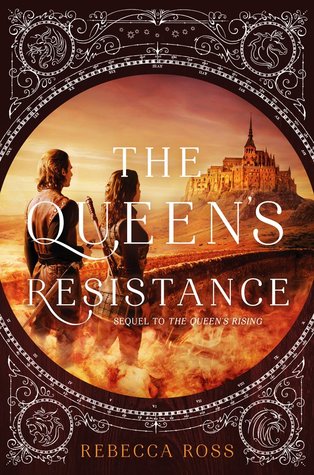 The highly anticipated sequel to The Queen's Rising!
Finally, Brienna is a mistress of knowledge and is settling into her role as the daughter of Davin MacQuinn, a disgraced lord who returned to Maevana to reclaim his house. Though she'd just survived a revolution, one that will finally return a queen to the throne, she faces another difficult challenge. She must prove herself trustworthy to the MacQuinns. But as Queen Isolde Kavanagh's closest confidant, she'll have to balance serving her father's house as well as her country. And then there's Cartier, a wholly separate but desirable factor in her new life.
Aodhan Morgane, formerly known as Cartier Évariste, is adjusting to the stark contrast between his pre-rebellion life in Valenia as a master of knowledge and his current one as the lord of a fallen house. During his castle's restoration, he discovers a ten-year-old boy named Tomas, whose past and parentage are a complete mystery. So when Cartier's former pupil Brienna is as taken with Tomas as he is, he lets his mind wander—what if he doesn't have to raise him or his house alone?
As the Lannon trial rapidly approaches, Brienna and Cartier must put their feelings aside to concentrate on forging alliances, executing justice, and ensuring that no one interferes with the queen's coronation. But resistance is rumbling among the old regime's supporters, who are desperate to find a weakness in the rebels' forces. And nothing makes a person more vulnerable than deep-seated love.
Release Date: March 5th, 2019
With her daughter to care for and her Abuela to help support, high school senior Emoni Santiago has to make the tough decisions, and do what must be done. The one place she can let her responsibilities go is in the kitchen, where she adds a little something magical to everything she cooks, turning her food into straight-up goodness. Still, she knows she doesn't have enough time for her school's new culinary arts class, doesn't have the money for the class's trip to Spain — and shouldn't still be dreaming of someday working in a real kitchen. But even with all the rules she has for her life — and all the rules everyone expects her to play by — once Emoni starts cooking, her only real choice is to let her talent break free.
Release Date: May 7th 2019
The Mayan God of Death sends a young woman on a harrowing, life-changing journey in this dark fairy tale inspired by Mexican folklore, for readers of The Song of Achilles and Uprooted.
Here we shall begin to tell a story: a tale of a throne lost, of monsters and magic. A tale of gods and of the shadow realm. But this, our story, it begins in our world, in the land of mortals.
It begins with a woman. For this story, it is her story. It begins with her.
The Jazz Age is in full swing, but Casiopea Tun is too busy cleaning the floors of her wealthy grandfather's house to listen to any fast tunes. Nevertheless, she dreams of a life far from her dusty, small town in southern Mexico. A life she can call her own.
Yet this new life seems as distant as the stars, until the day she finds a curious wooden box in her grandfather's room. She opens it–and accidentally frees the spirit of the Mayan God of Death, who requests her help in recovering his throne from his treacherous brother. Failure will mean Casiopea's demise, but success could make her dreams come true.
In the company of the strangely alluring god and armed with her wits, Casiopea begins an adventure that will take her on a cross-country odyssey, from the jungles of Yucatán to the bright lights of Mexico City–and deep into the darkness of the Mayan underworld.
Mixing the excitement of the Roaring Twenties with Prehispanic mythology, Gods of Jade and Shadow is a vivid, wildly imaginative historical fantasy.
Release Date: August 6th, 2019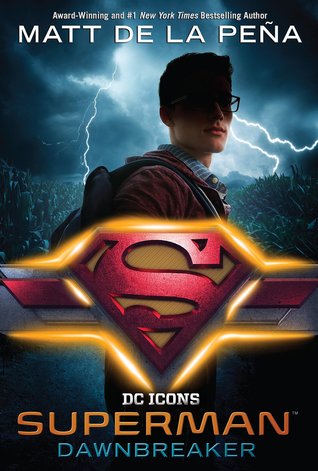 When the dawn breaks, a hero rises.
His power is beyond imagining.
Clark Kent has always been faster, stronger–better–than everyone around him. But he wasn't raised to show off, and drawing attention to himself could be dangerous. Plus, it's not like he's earned his powers . . . yet.
But power comes with a price.
Lately, it's difficult to hold back and keep his heroics in the shadows. When Clark follows the sound of a girl crying, he comes across Gloria Alvarez and discovers a dark secret lurking in Smallville. Turns out, Clark's not the only one hiding something. Teaming up with his best friend, Lana Lang, he throws himself into the pursuit of the truth. What evil lies below the surface of his small town? And what will it cost Clark to learn about his past as he steps into the light to become the future Man of Steel? Because before he can save the world, he must save Smallville.
Release Date: March 5th, 2019
Hours after his funeral, a stranger appears at her door. Marvena Whitcomb, a coal miner's widow, is unaware that Daniel has died, and begs to speak with him about her missing daughter.
From miles away but worlds apart, Lily and Marvena's lives collide as they realize that Daniel was not the man that either of them believed him to be—and that his murder is far more complex than either of them could have imagined.
Inspired by the true story of Ohio's first female sheriff, this is a powerful debut about two women's search for justice as they take on the corruption at the heart of their community.
Release Date: January 8th, 2019
London, 1894.
When it appears that the notorious Jack the Ripper has returned to London, Chief Constable Melville Macnaghten recruits his neighbor Oscar Wilde to help him solve the case, hoping the author's unparalleled knowledge of the London underworld might be exactly what the police need to finally capture the serial killer.
In an account narrated by Wilde's close friend, fellow author Arthur Conan Doyle, Wilde gathers together suspects from the theaters, brothels, asylums, and traveling circuses of East London in the hopes of finding the true identity of Jack the Ripper before he can strike again. But even as the pair of amateur detectives venture further and further into a tangled web of criminals, performers, and prostitutes, new killings come to light that brings the investigation right back to Wilde's own neighborhood.
Release Date: April 2nd, 2019
And now…my number one choice….
Alice may be the president's daughter, but she's nobody's darling. As bold as her signature color Alice Blue, the gum-chewing, cigarette-smoking, poker-playing First Daughter discovers that the only way for a woman to stand out in Washington is to make waves–oceans of them. With the canny sophistication of the savviest politician on the Hill, Alice uses her celebrity to her advantage, testing the limits of her power and the seductive thrill of political entanglements.
But Washington, DC is rife with heartaches and betrayals, and when Alice falls hard for a smooth-talking congressman it will take everything this rebel has to emerge triumphant and claim her place as an American icon. As Alice soldiers through the devastation of two world wars and brazens out a cutting feud with her famous Roosevelt cousins, it's no wonder everyone in the capital refers to her as the Other Washington Monument–and Alice intends to outlast them all.
Go read Katie and Adrienne's posts! They'll have links to the rest of our posts as the day progresses. You might even find things you will want to pick up! 💕📚