Hey, look at me, I did it on time this week!
As I'm huge into historical fiction, I thought I'd do the Top Ten Historical Fiction Covers that I love. Some have such gorgeous covers that I can't stop staring. They may say not to judge a book by its cover…but I think that we all do it to a certain extent. I'm including some upcoming titles too. I hope you enjoy the list! I know we don't have the same taste, but I'd love to hear what you like about covers too. ❤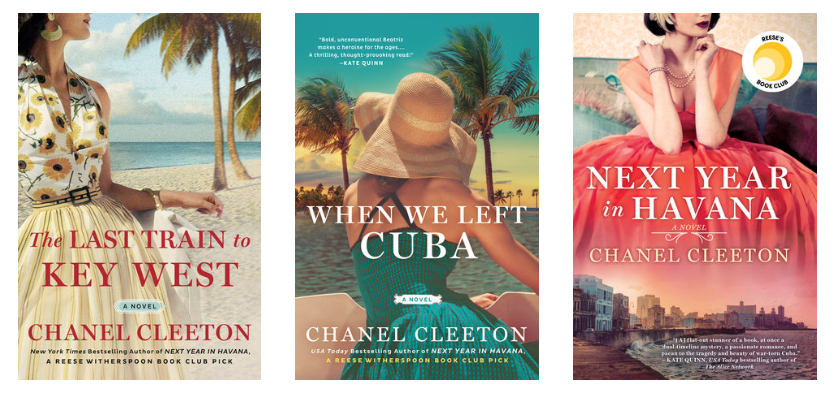 The Last Train to Key West comes out later this year, but as with the first two books by Ms. Cleeton, I am just blown away by the beautiful cover. I'm sad this is the end of this particular series that she's writing, but I am looking quite forward to future books. I absolutely adore these covers and I love these books. If you'd like to hear my thoughts on Next Year In Havana, you can check that out here.  If you'd like to hear the synopsis of When We Left Cuba, you can read that right here.
Mrs. Lincoln's Dressmaker is one of my favorites, given that we're given a look into Elizabeth Keckley's life. Once a slave who became a free-woman and eventually the titular character. She was a fascinating woman and one who history seemingly ignores. If you want to read my review. You know what to do. 😉 Resistance Women is one of the books I mean to read still and Mrs. Lincoln's Sisters is coming out later this year. Color me excited. 😀

I love these covers because they're eyecatching. They're brightly colored and they just catch you, inviting you into the world within. Whether it be Revolutionary Russia or Colonial America. The same with the novels below. There's something about a colorful cover that has such appeal to me. 
Here are some upcoming releases with some stunning covers…
I can't wait to read The Queen's Secret and The Girl in White Gloves. I've already read 'And They Called It Camelot' and I can't wait to share my review. I want to wait a little closer to release day, but I will tell you, it's a beautiful read and really gives you insight into Jacqueline Kennedy Onassis' life. (I was also beyond amazed to see my name in the acknowledgments. STILL FLAILING!!!)