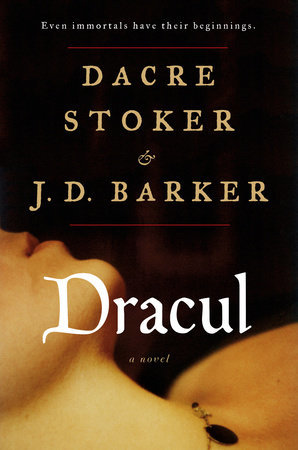 Hardcover: 512 pages
Publisher: G.P. Putnam's Sons
Publish Date: October 2, 2018

The prequel to Dracula, inspired by notes and texts left behind by the author of the classic novel, Dracul is a riveting novel of gothic suspense that reveals not only Dracula's true origins but Bram Stoker's — and the tale of the enigmatic woman who connects them.
It is 1868, and a twenty-one-year-old Bram Stoker waits in a desolate tower to face an indescribable evil. Armed only with crucifixes, holy water, and a rifle, he prays to survive a single night, the longest of his life. Desperate to record what he has witnessed, Bram scribbles down the events that led him here…
A sickly child, Bram spent his early days bedridden in his parents' Dublin home, tended to by his caretaker, a young woman named Ellen Crone. When a string of strange deaths occur in a nearby town, Bram and his sister Matilda detect a pattern of bizarre behavior by Ellen — a mystery that deepens chillingly until Ellen vanishes suddenly from their lives. Years later, Matilda returns from studying in Paris to tell Bram the news that she has seen Ellen — and that the nightmare they've thought long ended is only beginning.
It is strange to say that I never much enjoyed the book, Dracula. It has its perks and points that had me intrigued, but I never fell head over heels. I enjoyed the film with Gary Oldman greatly; as well as Dracula Untold with Luke Evans. (I was in the minority for that, I think.) Regardless, I have always loved the lure of the supernatural and when I heard about this particular book, I was interested. I never thought that I'd receive an advanced copy but I requested…and voila! Despite its large size–just over 500 pages, I finished it in two nights.
This is a stunning mix of both reality and fiction meeting. The events of this story is what inspires Bram to eventually write 'Dracula'. If you're looking for a bland, sparkly sort of vampire story, this isn't it. If you like a traditional, I'm-going-to-scare-the-hell-out-of-you vampire? This is it. Both authors write seamlessly and it's easy to forget that there are actually two people writing. Dacre Stoker has a wealth of information at his fingertips that he imbued in the story, giving life to the Stoker family in a way that we don't really get.
I loved the vivacity of the characters. Not a one was dull nor one dimensional. Everyone seemingly jumped off the pages, even Ellen, whom we learn little about until she's ready to tell about herself. She is a mystery yet, you do feel that you know her well. I loved Matilda, Bram's sister. She is ahead of her time, not willing to submit to the rubbish rules of society, though using them occasionally to get her way. I loved that she was able to call things as they were even if no one else wanted to see or hear it.
Written as journal entries by the central characters, you're brought into the mindsets of each of them, all of them forming a stunning read that I guarantee you won't want to pull away from. I promise that if you like horror, you'll be intrigued. Rather, you'll be besotted by this, which I am pretty certain will become a classic and something you return to every Halloween. I loved reading things from Bram's POV, which we get from childhood to adulthood. I enjoyed that greatly. He was a sickly young boy but when Nana Ellen comes to the Stoker household, Bram improves. No one knows quite how she does it, but eventually, she just leaves which begins the great mystery of their lives.
I read this in June, so I've been sitting on my excitement for months. But I'm about to reread it because, hey, it's autumn and it's October! Read all the spooky things!
I'd give it ★★★★★ stars.
I received a copy of this in exchange for my honest opinion.
I would and have (!) recommend this to a friend. 🙂

Amazon
Barnes & Noble
Books-A-Million
Indiebound
Book Depository
Dacre Stoker is the great-grandnephew of Bram Stoker and the international bestselling co-author of Dracula: The Un-Dead, the official Stoker family-endorsed sequel to Dracula. He is also the co-editor of The Lost Journal of Bram Stoker: The Dublin Years. He currently lives with his wife, Jenne, in Aiken, South Carolina, where he manages the Bram Stoker Estate.
J.D. Barker is the internationally bestselling author the internationally bestselling 
author of Forsaken, The Fourth Monkey, and The Fifth to Die. He was a finalist for the Bram Stoker Award for Superior Achievement in a First Novel, and winner of the New Apple Medalist Award. His works have been translated into numerous languages and optioned for both film and television. Barker currently resides in Pennsylvania with his wife, Dayna, and daughter, Ember.