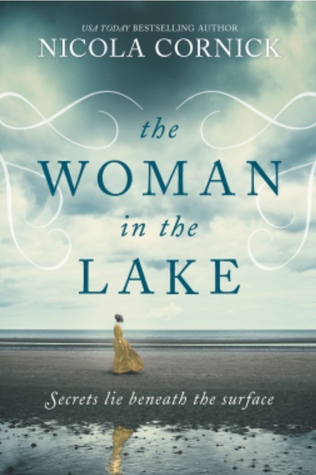 Paperback: 384 pages
Publisher: HQ
Publish Date: 7 Mar. 2019

'I see it all again: the silver moon swimming beneath the water and the golden gown billowing out about her…'
1765: Lady Isabella Gerard asks her maid to take her new golden gown and destroy it. Its shimmering beauty has been tainted by the actions of her husband the night before.
Three months later: Lord Eustace Gerard stands beside the lake looking down at the woman in the golden gown. As the body slowly rolls over to reveal her face, it's clear this is not his intended victim…​
1996: Fenella Brightwell steals a stunning gown from a stately home. Twenty years later and reeling from the end of an abusive marriage, she wonders if it has cursed her all this time. Now she's determined to discover the history behind the beautiful golden dress…
Book Depository || Amazon || Books-a-Million || Indie Bound || Barnes & Noble
Generally, I don't enjoy split timelines. They don't do very much for me except give me a headache not to mention, I find that sometimes they are poorly written or that the one character is lackluster in comparison to another and makes for a dreary experience.
However, in this time, we have three narrators and two of them are in the eighteenth century, Lady Isabella and her maid, Constance, whilst Fenella is in today's time period save for a flashback to the 90's. I rather enjoyed each of their narratives, though I admit Isabella was my favorite. Trapped in an unhappy and violent marriage, Isabella is at her wits end. Constance, who has secrets of her own, works for the lady but is actually spying upon her for her husband. Fenella, in the modern period, is dealing with the aftermath of her marriage and the loss of her grandmother.
All three of them have one thing in common–a golden gown that was meant for Isabella. However…there is far more to the gown than anyone anticipated.
At first, I wasn't sure how they were going to tie together but amazingly, they do and they do so seamlessly. (No pun intended!) The way Ms. Cornick brought it together was brilliant, dropping little hints here and there so that you would experience that 'aha!' moment. I liked the parallels between the three women as well and their story with Fen's life. It was seriously quite brilliant how they all tied in together.
I thoroughly enjoyed this story and how one dress could really bring this rich cast of characters together. Even though, as I said, I dislike split storylines, this one is tolerable since it works to be a full, cohesive story. The characters are lovely and fun; not fully knowing their true motives made it enjoyable. I'd have liked them fleshed out a little more–I couldn't quite picture each person as the descriptions were sort of vague–but perhaps that is the intent; to let us wonder who they are. And I'd have adored more description to the locales but still, a fun read.
I also thought the momentary time slips were a great deal of fun to read. A little offputting–I'd definitely be scared if I saw things in another time or was transported to another time!–but I loved those moments.
I think if you enjoy Outlander or the series A Discovery of Witches, you'll more than likely enjoy this book.
I'd give it ★★★ stars.
I received this in exchange for an honest review.
I might recommend this to a friend.
International bestselling author Nicola Cornick writes romantic historical mysteries and witty and passionate Regency romance. She studied History at London and Oxford and was awarded a distinction for her dissertation on historical heroes. It was a tough study but someone had to do it. Nicola has a "double life" as a writer and guide at the stunning 17th century hunting lodge, Ashdown House.
Nicola lives near Oxford and loves reading, writing, history, music, wildlife, travel and walking her dog. She also loves hearing from her readers and chatting to them on her blog at www.nicolacornick.co.uk She can also be found on Facebook and Twitter @NicolaCornick