Happy Birthday to Alexander Hamilton! That's right, the Founding Father who has a hit Broadway show named after him is celebrating his birthday today. Rather, we're celebrating it. If you go to any Starbucks today, they'll be playing the Hamilton soundtrack, Hamildrops, remixes…etc. So coffee and broadway, if you will. I thought it'd be fun to compile a list of books about Alexander and his wife, Eliza. Because without her, his story wouldn't have been told.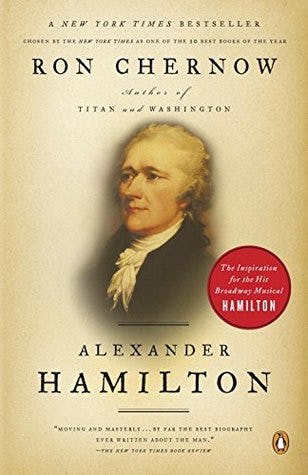 Pulitzer Prize-winning author Ron Chernow presents a landmark biography of Alexander Hamilton, the Founding Father who galvanized, inspired, scandalized, and shaped the newborn nation.
In the first full-length biography of Alexander Hamilton in decades, Ron Chernow tells the riveting story of a man who overcame all odds to shape, inspire, and scandalize the newborn America. According to historian Joseph Ellis, Alexander Hamiltonis "a robust full-length portrait, in my view the best ever written, of the most brilliant, charismatic and dangerous founder of them all."
Few figures in American history have been more hotly debated or more grossly misunderstood than Alexander Hamilton. Chernow's biography gives Hamilton his due and sets the record straight, deftly illustrating that the political and economic greatness of today's America is the result of Hamilton's countless sacrifices to champion ideas that were often wildly disputed during his time. "To repudiate his legacy," Chernow writes, "is, in many ways, to repudiate the modern world." Chernow here recounts Hamilton's turbulent life: an illegitimate, largely self-taught orphan from the Caribbean, he came out of nowhere to take America by storm, rising to become George Washington's aide-de-camp in the Continental Army, coauthoring The Federalist Papers, founding the Bank of New York, leading the Federalist Party, and becoming the first Treasury Secretary of the United States. Historians have long told the story of America's birth as the triumph of Jefferson's democratic ideals over the aristocratic intentions of Hamilton. Chernow presents an entirely different man, whose legendary ambitions were motivated not merely by self-interest but by passionate patriotism and a stubborn will to build the foundations of American prosperity and power. His is a Hamilton far more human than we've encountered before—from his shame about his birth to his fiery aspirations, from his intimate relationships with childhood friends to his titanic feuds with Jefferson, Madison, Adams, Monroe, and Burr, and from his highly public affair with Maria Reynolds to his loving marriage to his loyal wife Eliza. And never before has there been a more vivid account of Hamilton's famous and mysterious death in a duel with Aaron Burr in July of 1804.
Chernow's biography is not just a portrait of Hamilton, but the story of America's birth seen through its most central figure. At a critical time to look back to our roots, Alexander Hamilton will remind readers of the purpose of our institutions and our heritage as Americans.
Lin-Manuel Miranda's groundbreaking musical Hamilton is as revolutionary as its
subject, the poor kid from the Caribbean who fought the British, defended the Constitution, and helped to found the United States. Fusing hip-hop, pop, R&B, and the best traditions of theater, this once-in-a-generation show broadens the sound of Broadway, reveals the storytelling power of rap, and claims our country's origins for a diverse new generation.
Hamilton: The Revolution gives readers an unprecedented view of both revolutions, from the only two writers able to provide it. Miranda and Jeremy McCarter, a cultural critic and theater artist who was involved in the project from its earliest stages–"since before this was even a show," according to Miranda–trace its development from an improbable perfor­mance at the White House to its landmark opening night on Broadway six years later. In addition, Miranda has written more than 200 funny, revealing footnotes for his award-winning libretto, the full text of which is published here.
Their account features photos by the renowned Frank Ockenfels and veteran Broadway photographer Joan Marcus; exclusive looks at notebooks and emails; interviews with Questlove, Stephen Sond­heim, leading political commentators, and more than 40 people involved with the production; and multiple appearances by Presi­dent Obama himself. The book does more than tell the surprising story of how a Broadway musical became a national phenomenon: It demonstrates that America has always been renewed by the brash upstarts and brilliant outsiders, the men, and women who don't throw away their shot.

In this beautifully written novel of historical fiction, bestselling author Susan Holloway Scott tells the story of Alexander Hamilton's wife, Eliza—a fascinating, strong-willed heroine in her own right and a key figure in one of the most gripping periods in American history.
"Love is not easy with a man chosen by Fate for greatness . . ."
As the daughter of a respected general, Elizabeth Schuyler is accustomed to socializing with dignitaries and soldiers. But no visitor to her parents' home has affected her so strongly as Alexander Hamilton, a charismatic, ambitious aide to George Washington. They marry quickly, and despite the tumult of the American Revolution, Eliza is confident in her brilliant husband and in her role as his helpmate. But it is in the aftermath of war, as Hamilton becomes one of the country's most important figures, that she truly comes into her own.
In the new capital, Eliza becomes an adored member of society, respected for her fierce devotion to Hamilton as well as her grace. Behind closed doors, she astutely manages their expanding household and assists her husband with his political writings. Yet some challenges are impossible to prepare for. Through public scandal, betrayal, personal heartbreak, and tragedy, she is tested again and again. In the end, it will be Eliza's indomitable strength that makes her not only Hamilton's most crucial ally in life but his most loyal advocate after his death, determined to preserve his legacy while pursuing her own extraordinary path through the nation they helped shape together.
From the New York Times bestselling authors of America's First Daughter comes the epic story of Eliza Schuyler Hamilton—a revolutionary woman who, like her new nation, struggled to define herself in the wake of war, betrayal, and tragedy. Haunting, moving, and beautifully written, Dray and Kamoie used thousands of letters and original sources to tell Eliza's story as it's never been told before—not just as the wronged wife at the center of a political sex scandal—but also as a founding mother who shaped an American legacy in her own right.
A general's daughter…
Coming of age on the perilous frontier of revolutionary New York, Elizabeth Schuyler champions the fight for independence. And when she meets Alexander Hamilton, Washington's penniless but passionate aide-de-camp, she's captivated by the young officer's charisma and brilliance. They fall in love, despite Hamilton's bastard birth and the uncertainties of war.
A founding father's wife…
But the union they create—in their marriage and the new nation—is far from perfect. From glittering inaugural balls to bloody street riots, the Hamiltons are at the center of it all—including the political treachery of America's first sex scandal, which forces Eliza to struggle through heartbreak and betrayal to find forgiveness.
The last surviving light of the Revolution…
When a duel destroys Eliza's hard-won peace, the grieving widow fights her husband's enemies to preserve Alexander's legacy. But long-buried secrets threaten everything Eliza believes about her marriage and her own legacy. Questioning her tireless devotion to the man and country that have broken her heart, she's left with one last battle—to understand the flawed man she married and the imperfect union he could never have created without her…
Set against the dramatic backdrop of the American Revolution, and featuring a cast of iconic characters such as George Washington, Thomas Jefferson, and the Marquis de Lafayette, The Hamilton Affair tells the sweeping, tumultuous, true love story of Alexander Hamilton and Elizabeth Schuyler, from tremulous beginning to bittersweet ending—his at a dueling ground on the shores of the Hudson River, hers more than half a century later after a brave, successful life.
Hamilton was a bastard son, raised on the Caribbean island of St. Croix. He went to America to pursue his education. Along the way he became one of the American Revolution's most dashing—and unlikely—heroes. Adored by Washington, hated by Jefferson, Hamilton was a lightning rod: the most controversial leader of the American Revolution.
She was the well-to-do daughter of one of New York's most exalted families—feisty, adventurous, and loyal to a fault. When she met Alexander, she fell head over heels. She pursued him despite his illegitimacy and loved him despite his infidelity. In 1816 (two centuries ago), she shamed Congress into supporting his seven orphaned children. Elizabeth Schuyler Hamilton started New York's first orphanage. The only "founding mother" to truly embrace public service, she raised 160 children in addition to her own.
With its flawless writing, brilliantly drawn characters, and epic scope, The Hamilton Affair will take its place among the greatest novels of American history.
For fans of the extraordinary Broadway musical Hamilton, New York Times bestselling author L. M. Elliott delivers a richly detailed historical novel about the lively Peggy Schuyler and her devoted friendship to Alexander Hamilton during the drama of the American Revolution.
Revolutionary. Friend. Lover. Sister.
Peggy Schuyler has always felt like she's existed in the shadows of her beloved sisters: the fiery, intelligent Angelica and the beautiful, sweet Eliza. The three of them have a magnetic pull—they are stronger together than they are alone. But it's in the throes of a chaotic war that Peggy finds herself a central figure amid Loyalists and Patriots, spies and traitors, and friends and family. Charming, quick-witted, and clever beyond compare, Peggy is determined to use her talents to make her own mark on the Revolutionary War.
When a flirtatious aide-de-camp, Alexander Hamilton, writes an eloquent letter to Peggy asking for her help in wooing the earnest Eliza, Peggy finds herself unable to deny such an impassioned plea. A fast friendship forms between the two, but Alexander is caught in the same war as her father, General Philip Schuyler, and the danger to all their lives is real. Everything is a battlefield—from the front lines to their carefully coded letters—and Peggy must put herself in harm's way to protect the people she loves. But will her bravery and intelligence be enough to keep them all safe?
"Complex, passionate, brilliant, flawed? Alexander Hamilton comes alive in Martha Brockenbrough's exciting biography Alexander Hamilton: Revolutionary, which is an essential read for teen fans of Hamilton the musical.
Discover the incredible true story behind the Tony Award-winning musical – Hamilton's early years in the Caribbean; his involvement in the Revolutionary War; and his groundbreaking role in government, which still shapes American government today. Easy to follow, this gripping account of a founding father and American icon features illustrations, maps, timelines, infographics, and additional information ranging from Hamilton's own writings to facts about fashion, music, etiquette, and custom of the times, including best historical insults and the etiquette of duels."
A brash immigrant who rose to become George Washington's right-hand man. A fierce partisan whose nationalist vision made him Thomas Jefferson's bitter rival. An unfaithful husband whose commitment to personal honor brought his life to a tragic early end. The amazing success of Lin-Manuel Miranda's musical Hamilton has stoked an extraordinary resurgence of interest in Alexander Hamilton, the brilliant and divisive founder who profoundly shaped the American republic.
Now, Library of America presents an unrivaled portrait of Hamilton in his own words, charting his meteoric rise, his controversial tenure as treasury secretary, and his scandalous final years, culminating in his infamous duel with Aaron Burr.
Selected and introduced by acclaimed historian Joanne B. Freeman, here is a reader's edition of Hamilton's essential public writings and private letters, plus the correspondence between Burr and Hamilton that led to their duel and two conflicting eyewitness accounts of their fatal encounter.
Happy Birthday, Alexander.
They've told your story…