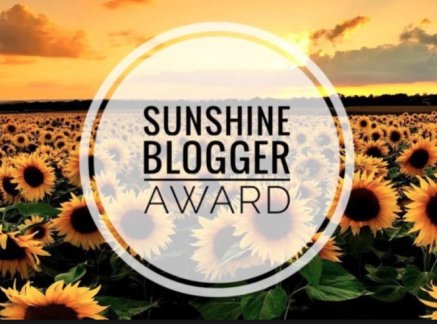 Thank you so much to Mani at Mani's Book Corner for the nomination! 
Thank the blogger who nominated you in a blog post and link back to their blog.
Answer the 11 questions the blogger asked you.
Nominate (at least) 11 new blogs to receive the award and write them 11 new questions.
List the rules and display the Sunshine Blogger Award logo in your post and/or on your blog.
Mani asked me….
1. Do you lend out your books?
Rarely. If I lend you a book, you have to be someone I know well and someone who I know takes care of things. 

2. Do you write in your books?
I used to write my name in my books and date when I got them. I don't do that anymore because as my mother says, "Everyone knows they're yours, Clarissa." 

3. What is the one book you will always recommend to everyone?
I always recommend Little Women, but if we're going with more contemporary reads, Harry Potter, lol. 

4. Can you read on the bus/in the car?

I can! And I like to read with my headphones on and some sort of music playing. Lately, it's been Panic! At The Disco. 

5. What makes you love a book?

When it makes me forget where I am. If it can bring me into that world and make me forget everything else, I'm in love.
6. How often do you agree with the critics about a book?

I don't read a lot of reviews prior to a release, ironically. It's not a slight to them, I just like to form my own opinions. After I read whatever it is, then I look at reviews and I find that it's hit or miss. 

7. How do you feel about giving bad/negative reviews?

Some might say I enjoy doing so because I seem to take a bit of glee in being so brutally honest, lol. I don't enjoy it–especially if I was excited for the book. No, I take that back. My sarcasm comes out especially well when I am being brutal.
8. If you could read in a foreign language, which language would you choose?
French. I just love the language.
9. What's the longest you've gone without reading?
Um…lol.
10. Favourite film adaptation of a book?

I love the Harry Potter movies. (Except for the third film, I just didn't enjoy that.) Gone With The Wind, Little Women (with Winona Ryder), I love Forrest Gump too, the book was terrible, but the movie was so good. (Then again, I love Tom Hanks.)
11. Which book character strongly resembles your personality
I always say it's a tie between Scarlett O'Hara and Jo March. But I think it could be Lou from Me Before You too!
My Questions!
What is your favorite movie?
If you could fancast your favorite book, which would it be and who would you pick?
If you could jump into one of your books, which one?
What's your favorite color?
What is your biggest pet peeve in books?
Do you lend your books out to people?
What do you like to do beyond reading?
What's your favorite food?
 Do you listen to music when you're reading?
You've just won the lottery.  What is the first thing you're going to do with the money?
What is one random fact about you?
Tagging:
Amy-OUABB
Shalini's Books & Reviews
lilajune's book saloon
Bree @ In Love & Words
Jill's Book Blog
Kristin @ Kristin Kraves Books
Ashley @ Book Tales
Sarah @ Murder by Tomes
Alyssa – alovelybookaffair
Elaine Howlin – Literary Blog
Whit @ Whit Reads Lit